Bruce Kessler, a native of Seattle, has been messing about in boats all his life. He raced sports cars at the international level as a young man, but boating and fishing have been a passion ever since he could barely walk down the family dock on Vashon Island.
The first boat Kessler built was a 26-foot sports fisherman in 1960. As he wanted to fish farther and farther from home, in ever more exotic locations, his sportsfishers grew larger and larger, eventually reaching 48 feet LOA. By then, he was roaming deep into Baja Mexico from his home port of San Diego.
"At that point I realized trawlers had become a logical progression for me," says Kessler. "Range and sea-keeping abilities were paramount in my mind."
Thus, he became the man to convince Delta Marine, one of the largest and most successful builders of commercial fishing vessels, to take what they knew about rugged boats and the open sea and develop a trawler yacht for him.
Zopilote was launched at Delta Marine in Seattle on May 1, 1985. She was designed by Steve Seaton, 70 feet LOD, displacing 116 tons.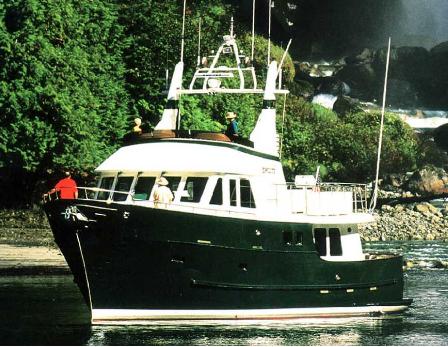 Bruce and Joan Kessler built Spirit of Zopilote, shown here, to replace the original Zopilote with which they circumnavigated the world. Photo courtesy of Northern Marine.
Before undertaking the circumnavigation, Bruce cruised with Zopilote from Seattle to Alaska, then to Maine and the Caribbean before returning home to Southern California.
Here is the route for the circumnavigation of the world with Zopilote. If the truth were known, it was essentially a three-year fishing expedition!
Departed from Los Angeles

(Marina del Rey)

on March 1, 1990

Across the Pacific Ocean

Hawaii

Tahiti

Cook Island

Tonga

Fiji

New Caledonia

Australia

New Zealand

Sydney, Australia

Darwin, Australia

Bali

Singapore

Across the Indian Ocean
Devastation is the only way to describe the loss Bruce felt in 1994 when Zopilote was lost on an uncharted seamount 70 miles west of Ketchikan, Alaska.
The circumnavigation had covered about 35,000 miles. In total, Kessler had left about 100,000 miles in Zopilote's wake.
Like Zopilote, Spirit of Zopilote was designed by Steve Seaton, and built by Northern Marine. In the ensuing years, Bud Lemieux had left Delta Marine to start Northern in Anacortes, Washington, with Chuck Worst and Clifford Rome.
Spirit was the first boat to be launched by Northern. It is the first in a line of long-range trawlers that embody all that Bruce Kessler has learned and experienced after more than 100,000 miles of voyaging under power. Steve Seaton created the impressive lines, and Bud Lemieux made it all happen in 163,000 pounds of boat and machinery.
Spirit is 12 feet shorter on deck than the original Zopilote, yet retains the powerful lines of her Alaska seiner heritage. Overall, Spirit measures 64 feet. She has a beam of 18 feet with draft of 6 feet 4 inches. Power comes from a 300-hp Cummins. Fuel capacity of 3,100 gallons means a range of 5,050 nautical miles at 8 knots, or 2,100 miles at 10 knots.
"It was very difficult to find a boat to follow in Zopilote's wake," Kessler says. "Northern Marine gave us the opportunity to create a smaller, more manageable long-range vessel for Joan and me to live and cruise on."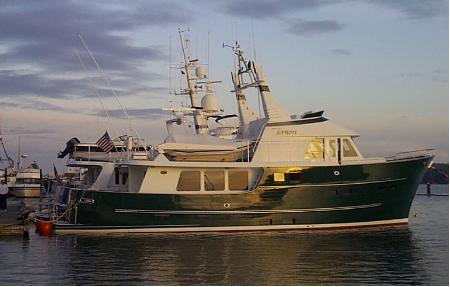 Spirit of Zopilote at rest in the marina at Poulsbo, Washington. Photo by Charles Vollum.
Kessler and his wife took up residence in Anacortes for the 18 months that it took from start of the project to the launch on July 1, 1997. After a shakedown cruise in the Pacific Northwest, they ran down the coast to Marina del Rey where Spirit is docked in front of their home.
"My wife would just love to stay put for a while," Kessler says to explain the lack of any firm plans--at the moment, at least--for further cruising and voyaging in the spirit of the legendary Zopilote.
Kessler, 62, is semi-retired from the television industry after 30 years as a respected director, while Joan was a successful actress in film. He has directed television shows such as Monkees, Mission Impossible and A-Team and, more recently, Commish, Diagnosis Murder and Touched By An Angel. With his background in auto racing, Kessler helped pioneer high-speed car chases in films such as Bullit.
His circumnavigation with Zopilote was widely covered in national boating magazines during the early part of the decade. His voyaging, and those fantastic pictures of that green trawler in exotic locations around the world, were instrumental in promoting the concept of long-distance cruising under power to countless yachtsmen world-wide.
What Bruce and Joan Kessler accomplished in 1990-93 with Zopilote was pivotal in stimulating the surge of interest in ocean-going motorboats. That interest was further fueled by the publication of the revised edition of Voyaging Under Power in 1994 and the recent circumnavigation by Jim and Susy Sink.
What Bruce Kessler is doing today is as remarkable as his voyaging with Zopilote. He is tirelessly and selflessly spreading the word for the trawler cause, answering any question, being available on almost any occasion, helping hundreds and even thousands of others realize their dreams.
For that we thank him from the bottom of our hearts, and welcome the opportunity to honor him as Passagemaker of the Year!
Copyright 1998. Trawler World Productions. All Rights Reserved.