HOME PORT

---

CIRCUMNAVIGATORS
PASSAGEMAKING
ARCTURUS
TRAWLER TRAVELS
LIVING THE LIFESTYLE
LOOPING THE LOOP
CIRCLE OF FRIENDS
HOW TO
WIT WONDER & WISDOM
HORROR STORIES
MULTIHULLS

---

Circumnavigator editors at work and play
| | | |
| --- | --- | --- |
| | | |
| | | |
© 1997-2017 Water World Productions, formerly Trawler World Productions. All rights reserved. Reproduction of material from any trawlersandtrawlering.com page without written permission is strictly prohibited. Any copyrighted images remain the property of the copyright owner and are believed to be used with permission. Unsolicited letters, e-mails, articles and other materials submitted to us may be published, distributed and stored by Water World Productions and its assignees in whole or in part, in print or by any other means, including but not limited to electronic, and may be edited for clarity and space.

Trawlers & Trawlering and its abbreviation T&T, I'd Rather Be Trawlering, Passagemaking Under Power and its abbreviation PUP, Trawler Buy-Sell-Trade, Trawler News, Circumnavigator, and Power Catamaran World are trademarks of Water World Productions.
Here is a PDF document assembled by Mike Maurice of posts that have appeared on Passagemaking Under Power List about the Jordan Drogue. READ MORE . . .
Also see the thread Heavy Weather Tactics posted on Passagemaking Under Power (TM) in April 2007.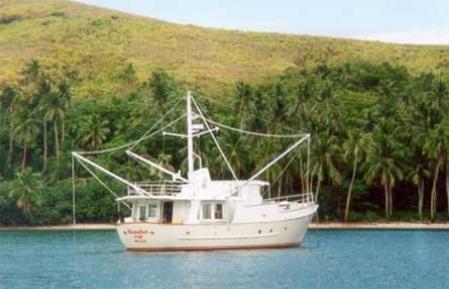 The South Pacific is a favorite destination for passagemakers such as circumnavigators Heidi and Wolfgang Hass of Germany aboard Kanaloa, a Nordhavn 46.
Across the Atlantic with Horizons
Seas are relatively calm all the way cross the Atlantic for the Krogen 54, with no wind or a following breeze. When the seas do get rough for a few days prior to the Azores, the active-fin stabilizers shut down when a bushing fails. READ MORE . . .

Year of the Voodoo Doll aboard Kanaloa
Passagemaking isn't always a pleasant voyage on calm seas from one island in paradise to the next, as two circumnavigators discovered aboard their well-travelled Nordhavn 46. READ MORE . . .
More features on passagemaking are in the works. Check back soon!