Even $10 a year will be a huge help

If you enjoy Trawlers & Trawlering and find it informative—and if you want the site to continue and grow, please lend a hand and contribute toward operating costs. A donation of just $10 or $25 a year will prove immensely helpful.

Click on the button to make a contribution with a credit card or PayPal account:

HOME PORT

---

CIRCUMNAVIGATORS
PASSAGEMAKING
ARCTURUS
TRAWLER TRAVELS
LIVING THE LIFESTYLE
LOOPING THE LOOP
CIRCLE OF FRIENDS
HOW TO
WIT WONDER & WISDOM
HORROR STORIES
MULTIHULLS

---

You can also contribute by check or money order, paid to Water World Productions, 3840 East Robinson Road #270, Amherst, NY 14228-2001. Contributions in Canadian funds can be directed to Water World Productions, 1210 Radom Street #707, Pickering, Ontario L1W 2Z3.

Thank you very much!
| | | |
| --- | --- | --- |
| | | |
| | | |
© 1997-2015 Water World Productions, formerly Trawler World Productions. All rights reserved. Reproduction of material from any trawlersandtrawlering.com page without written permission is strictly prohibited. Any copyrighted images remain the property of the copyright owner and are believed to be used with permission. Unsolicited letters, e-mails, articles and other materials submitted to us may be published, distributed and stored by Water World Productions and its assignees in whole or in part, in print or by any other means, including but not limited to electronic, and may be edited for clarity and space.

Trawlers & Trawlering and its abbreviation T&T, I'd Rather Be Trawlering, Passagemaking Under Power and its abbreviation PUP, Trawler Buy-Sell-Trade, Trawler News, Circumnavigator, and Power Catamaran World are trademarks of Water World Productions.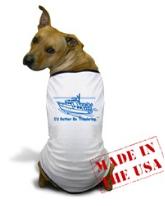 Show your passion. Purchase Trawlers & Trawlering shirts, logbooks and other gear by clicking on the above graphic.

Click the banner to access the informative forums at TrawlerCrawler.net