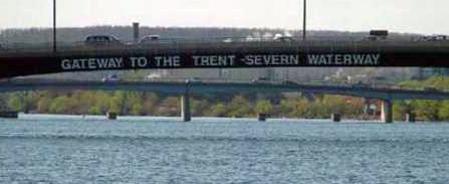 For many cruisers, the highlight of their Great Loop is the Trent-Severn Waterway across Ontario.
Looping the Loop on the Web
We're launching the section of the site devoted to the Great Loop and other waterways with a directory to sites of people who have already cruised the Loop or are in the midst of doing so.
Help grow the list of sites by sending suggestions for additions to Trawlers & Trawlering.
Karen Clute serves as Associate Linkmaster, Great Loop Sites, at Trawlers & Trawlering. She visits the sites and writes the reviews you see here.
Karen and her husband on Tellico Lake which is part of the Tennessee waterway and own a Fourwinns 288 Cruiser. They plan to start the Loop in the next year or so but are not certain what kind of boat we will use for the loop because "we think the 28-footer will be too small for us to successfully stay married and do the Loop."
"We are looking at Tollycrafts or Carvers," Karen says. "I know there is quite a difference but we like both for different reasons. We used to live in Michigan before semi-retiring to Tennessee. We have always had boats of one kind of another but have not really started getting into cruising until we reached Tennessee."
Great Loop sites
Adventures of Integrity
Bill and Ruth Donovan cruised the Great Loop during 2005-06 on Integrity, a 2002 Monk 36. Their site features daily logs and excellent pictures of the year-long cruise. Great site for wannabe cruisers or simply enjoy a cruise with your computer.
America's Great Loop Cruise
John and Judy Gill cruised the Loop aboard Two J's, their Carver 36 Mariner. Many helpful articles on long distance cruising, including articles on gas vs. diesel, security and pest control.
Apolonia
Phil Bolin and brother-in-law Barney Barnhill cruised the Loop 4/2005-11/2005 on a Vista 43 Motor Yacht. Site includes daily logs and pictures.
Cosmic C on the Loop
Patrick and Mary Fowles started the Loop in their 25-foot C Dory Cosmic C in August, 2006. Site excellent pictures and commentary.
Dee Light
Captain Marv Market and First Mate Betty Conley along with Admiral Autumn (their dog) cruised the Great Loop in 2003 on their Viking 60 Motor Sport Yacht. The site features their log and links for boating information and live weather information for Florida.
Duty Free
Leaving Europe in early 2003 to pick up their new Maxum 4600 SCB Limited Edition in St. Petersburg, Florida, Trev and Annette Whitehouse continued on to do the great loop.
Grace
Bob Davis and Christine Davis traveled the Loop in 1994-5 on their 40-foot Mainship. Site has pictures of trip.
Kismet
Jim and Lisa Favors completed the Great Loop for the first time in 2006 aboard Kismet. Currently on a two year plan aboard the new Kismet, a Fathom 40, they plan to complete the loop for a second time. They have also written a book about the reflections of many loopers.
Louisiana Trawlers
Pat and Charles Cullota on their boat CC Rider, a 45-foot 1981 CHB P/H, are in the process of cruising the Loop. Lots of good information from experienced boaters including a new-boat checklist and a humorous log from a women's perspective.
Maid of Steel
Canadians Colin and Margaret Werner departed from Britt, Ontario on Georgian Bay in 2002 to do the Great Loop on their 52-foot lotus steel trawler, Maid of Steel.
Pura Vida on the Loop
Join Tom Barnes and Margaret Mayer on their second Great Loop aboard Pura Vida, a 1978 Mainship. Site includes pictures and log.
Sterling Lady III
Doing the loop for the second time, Captain Sterling downsized to a 36-foot Morgan Heritage. Their first completion of the Great Loop in 2007 was with Sterling Lady II, a 44-foot Marine Trader.
Summer Skis
Follow the travels of Captain Jim Fuller and Admiral Marge Fuller as they take Summer Skis, their Nordhavn 43 on the Eastern route of the Great Loop.
TreadNWater
After completing the Great Loop with their Cruiser 455, Craig and Mary Lou Anderson are planning to cruise Lake Superior.
Voyages of the Calypso Poet
Gary and Coleen Barger traveled the Loop in 2002-03 in their boat Calypso Poet III, an aft cabin Carver 396, covering 8,559 statute miles and taking about 13 months. Site has many links including dog-friendly marinas.