Kanaloa completes circumnavigation
So pristine was the appearance of the Nordhavn 46, no one could believe Kanaloa had just returned from voyaging for six years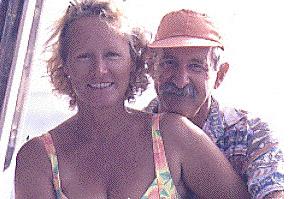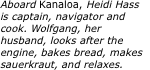 Heidi and Wolfgang Hass completed a six-year circumnavigation of the world when they returned to Dana Point, California, on November 15, 2002, aboard Kanaloa, a Nordhavn 46. They previously circumnavigated on a 38-foot sailboat—in a leisurely 15-1/2 years.
They have no plans to return to their native Germany any time soon.
"We'll leave Dana Point next year again for the South Pacific and plan to circumnavigate Australia," Heidi says. "That will be a challenge. Our permanent base will be Australia, our cruising grounds, Asia and the Pacific Islands. We plan to live on our boat for many more years to come."
Pacific Asian Enterprises, builders of Nordhavn, threw a dock party for the Hasses upon their arrival in Dana Point. No one in attendance could believe Kanaloa had just returned from voyaging for six years, so pristine was the appearance of the Nordhavn 46.
Heidi offers an explanation: "We have a simple life. In the mornings, we work on the boat, in the afternoons, we play."
Heidi drives the boat, navigates, cooks, and keeps the brightwork immaculate. Wolfgang says he looks after the engine, bakes bread, and relaxes. It's a combination that has served the Hasses well for more than 20 years of passagemaking the world.
Editor's note: In mid-2006, Heidi and Wolfgang Hass and their beloved Kanaloa were somewhere in the Pacific, on their third circumnavigation.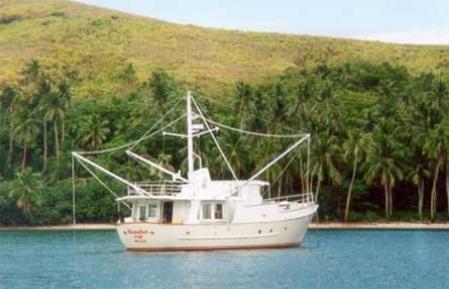 After a circumnavigation and a half, Kanaloa may be the Nordhavn 46 with the most sea miles in her wake.
RELATED
Year of the Voodoo doll aboard Kanaloa