Anchoring freedom threatened
Cruising guide writer Clairborne Young has issued a new alert regarding the right of Florida municipalities to once again enact any anchorage regulations they please.
Here's how he summarized the situation in an update posted February 12, 2009:
1. As the draft regulations now stands, local and county governments ARE indeed still FORBIDDEN to regulate anchorage. As I said above, that's the GOOD NEWS!
2. However, the draft language also proposes the establishment of several "test cases" within the next several years. What are "test cases" you may ask. Well, they are communities that establish a state of Florida approved mooring field, and are then allowed to PUT A BUFFER ZONE AROUND THESE MOORING FIELDS WHERE ANCHORAGE IS EITHER NOT ALLOWED, OR RESTRICTED IN SOME OTHER WAY.
3. THE DRAFT VERSION OF THE NEW, PROPOSED FWC REGULATIONS DOES "NOT" TRY TO DEFINE HOW LARGE OR SMALL THESE BUFFER ZONES WILL BE!!! And that, dear friends, is where the next BIG fight over Florida anchoring rights is going to come! Sometime during 2009 the Florida legislature will have to grapple with the issue of buffer zones around moorings fields, and their size. MAKE NO MISTAKE ABOUT IT, THE OUTCOME OF THIS STRUGGLE WILL PROBABLY DETERMINE WHETHER MOST OF US CAN ANCHOR ANYWHERE WITHIN SIGHT OF A COASTAL COMMUNITY IN FLORIDA, OR NOT!
For Young's complete report, visit Salty Southeast Cruisers' Net.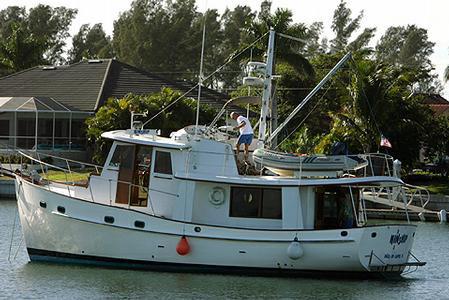 In Marco Island, Florida, early in 2007, the Krogen 42 Kinship owned by Dave Dumas deliberately violated a local anchoring ban to test its validity.
BoatUS members prevail in Florida anchoring decision
A court decision in Collier County, Florida, that found a restrictive Marco Island recreational boat anchoring ordinance in violation of state law could help lead to a statewide solution to Florida's patchwork of local anchoring laws.
The Marco Island ordinance restricted recreational boaters to a maximum 12-hour anchoring period when located within 300 feet of a seawall, and maximum six-day anchoring period anywhere beyond that distance. Collier County Judge Rob Crown's decision on October 26, 2007, said that the Marco Island ordinance was "an unlawful regulation of publicly owned sovereign waterways in violation of Florida law."
"Across Florida other local governments have enacted similar ordinances, that unfairly give local interests control over public waterways," said Margaret Podlich, BoatU.S. vice-president of government affairs. "We hope this court decision contributes to a statewide solution that is fair to all Florida citizens."
To get the anchoring case to court, BoatU.S. member Dave Dumas, a resident of Marco Island and owner of the Krogen 42 Kinship, intentionally broke the law in January, 2007, because he and other local boaters from the Sailing Association of Marco Island thought it was overly restrictive.
Another BoatU.S. member, Donald Day, of the Naples, Florida, law firm Barry, Day, McFee & Martin, handled the case pro bono.
Said Day, "As a result of Judge Crown's decision and current state statutes, many local governments around the state have advised me that they will not be enforcing their anchoring ordinances and will look to the state for guidance in the form of a uniform anchoring regulation. A lot of credit goes to BoatU.S. members who contacted their local governments to voice their displeasure with these inconsistent, arbitrary and restrictive ordinances."
Said Dumas, "The City Council thought they could do whatever they wanted and chose to take the position of a select few in this community. But they should have maintained a neutral position and arbitrated a solution that benefited all citizens."
Earlier in 2007, the Florida Fish and Wildlife Conservation Commission held a series of six stakeholder meetings around the state to hear concerns about anchoring issues.
BoatU.S. - Boat Owners Association of The United States - is the nation's leading advocate for recreational boaters with more than 650,000 members.