Charis, in labor for 18,000 hours
What started out as a two-year project ended six years later when Joan and Larry Ropka launched Charis, a 42-foot trawler yacht that they created out of an empty shell of a lobster boat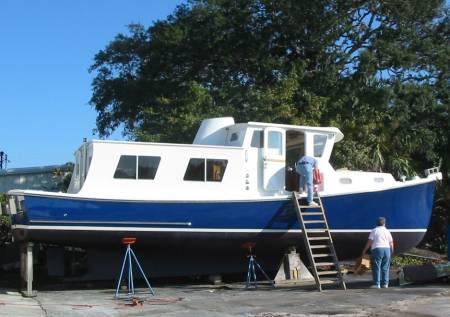 Joan and Larry Ropka preparing Charis for launch.
It was Christmas 2006 when Charis was launched by Joan and Larry Ropka, the culmination of a two-year project that actually lasted six years and required 18,000+ man- and woman-hours, including the sanding by hand of 300 feet of teak.
The labor of love started when Larry found the empty hull of a 42-foot lobster boat that was built by Bruno Stillman to a Royal Lowell design.
"It probably was not a sane thing to do," admits Larry, but "I was never smart enough to know what I couldn't do."
That's not "just a smart remark but to make the point that on big projects you just have to jump in. If you insist on knowing all about every step you will never begin."
After retiring from the military in 2000, and getting a bit "long in the tooth to crank up a 60-foot main (on a sailboat)," Larry went searching far and wide for a coastal trawler. Finding only "junk" and boats he felt were overpriced, he began looking for a project boat.
"As a sailor, I do not believe in getting out of siight of land without a proper keel and rudder and was seriously considering a new downeast 38' hull and deck when I stumbled upon the Bruno-Stillman in nearby Panama City Fl.orida She was owned by a fisherman/boatbuilder who had totally gutted the hull planning to turn it into a "picnic boat" for his personal use. He had earlier fished a sister boat. He became too busy with his business so sold the boat to me at a fair price and I moved it to the rear of the store I had managed where there was a very nice shop space and adjacent parking area. I had planned to build a simple pilothouse design on the hull in two years or so and go cruising for a year or so."
The boat consisted of an empty hull with only shaft and rudder. It did have a foredeck and forecabin roof. All of the rest was fabricated by the Ropkas. Roofs are of a single piece Core-Cell foam material they laid up on a male mold at a local boatbuilder's yard. Walls are vacuum bagged fiberglass on marine ply. Doors, door frames, all head panels, exterior eyebrow, windshield coaming and funnel all molded fiberglass.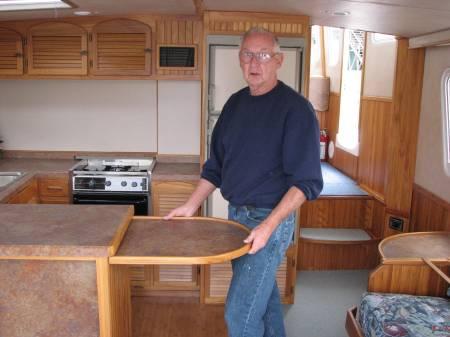 Larry and Joans hard work sure shows
Larry had mistakenly purchased several hundred board feet of teak a year or so earlier in anticipation of such a project. He finished out the forward cabin early in the process and it looked so good he could not bring himself to compromise on the rest of the boat.
"Soooo . . . six years and 18,000 or so man/woman hours later we are about finished. Probably not a sane thing to do but I have loved every minute and may have a mild case of post-partum syndrome going on. Joan and I did it all. Joan is masterful at sanding and fine detail. She was with me most days demanding precision and quality."
Larry and Joan spent about $110,000, thanks to the Internet and eBay. Larry shopped on the Internet a minimum of two hours per day for four years (not included in project total hours) and bought or located about 80 percent of all parts and supplies on the Net. Larry estimates that he averaged spending about $.65 on the dollar versus street prices for new or almost-new items.
Because "a proper boat needs a proper name," the Ropkas named their dream ship Charis. Charis is Greek for "grace" and the root of the word "charisma."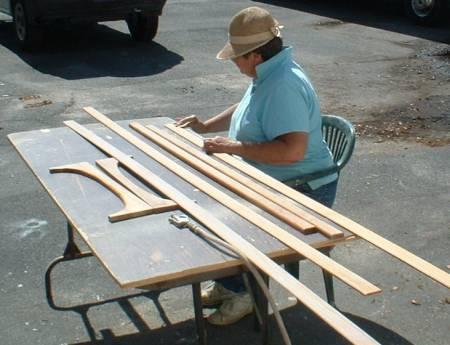 Joan doing her thing with the teak.
Larry and Joan's building experience to prepare them for this project included building a house on a lot they owned near Ft Walton Beach, Florida. Joan, being a lumberman's daughter from Montana, demanded a wood house. Thus, they purchased a cedar home kit from Seattle and went searching for a local builder. All were wary of the kit approach and so they began by reading a paperback on how to construct your own home. Eleven months later the house was done. Larry considers himself a lifelong shade-tree mechanic and once built a Shelby Cobra car from a kit.
"Very important: Although I had extensive exposure to boat construction in Taiwan and had four years at the knee of George Stadel, a very fine naval architect, I learned much more on the Trawlers & Trawlering List (T&T). Very many ideas and concepts derived from the list are incorporated in the boat."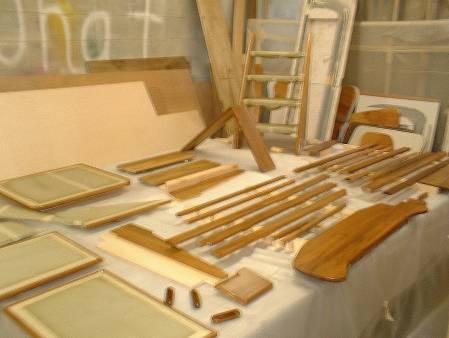 Teak ready to go.
Joan and Larry plan to depart Fort Walton, Florida, in March 2007 to escape the hurricane weather and reach the Chesapeake Bay for the summer. Joan is looking forward to her dream of cruising up and down the ICW and spending time in those special communities that everyone misses travelling the Interstates. The following summer will be spent exploring Canada and thereafter they may use the boat as a cabin on Kentucky lakes.
Larry was born in Port Deposit, Maryland, at the head of Chesapeake Bay, spending countless hours hunting, fishing and powerboating with his father, until joining USAF in 1952. Before retiring with the rank of colonel 28 years later, his career took him to long stints as a navigator and operations/plans staff officer and also to Taiwan where he spent lots of time at the boat yards. Later, he went on to oversee construction of several boats, falliong in love with a small yard building the Mayflower 48' ketch designed and overseen by George Stadel III.
SPECS
Power - John Deere 4045 TFM 150 hp Fuel - 300 gal
Displacement - 26,000 lb Water - 200 gal
Beam - 13 ft Black water - 100 gal
Draft - 4.2 ft Grey water - 70 gal
Speed - 8 knots at 1,750 RPM