Ben Gray's dream comes true
Neither portages around rapids, Arctic ice, Atlantic storms, Indonesian pirates nor Russian bureaucracy keeps Idlewild from her appointed circumnavigation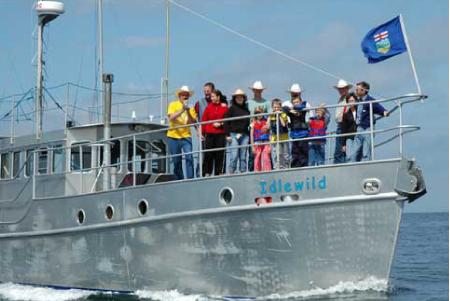 The crew is a baker's dozen as Idlewild enters the harbour at Steveston near Vancouver to conclude an incredible voyage around the world. Trawlers & Trawlering photos by Georgs Kolesnikovs.
By Georgs Kolesnikovs

After 33,400 nautical miles under way, Canadian rancher Ben Gray completed a record-setting circumnavigation of the world as he started it—with all four grandchildren as crew aboard Idlewild, the skinny and shallow passagemaker designed by George Buehler.
The 57-foot Idlewild returned home to Canada at Steveston Harbour on the Fraser River near Vancouver, British Columbia, on Friday, August 11, 2006, 14 months 2 weeks after starting her extraordinary journey far inland at Dunvegan, Alberta, near where the Gray family lives.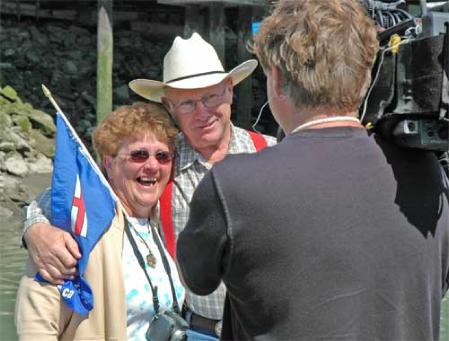 Retired rancher Ben Gray, in his trademark red suspenders and cowboy hat, faces the television camera with sister Corinne.
The aluminum Idlewild becomes:
The first yacht, power or sail, to circumnavigate by starting far inland and by using portages to reach the sea.
The first power yacht to circumnavigate via the Northwest Passage in less than one year.
The first Canadian yacht, power or sail, to circumnavigate via the Northwest Passage.
Third power yacht to transit the Northwest Passage, the first to do so West to East.
In the course of the voyage around the planet, Idlewild made the longest nonstop passage ever attempted by a recreational powerboat, 4,495 nautical miles from South Africa to Australia arriving with only 25 gallons of fuel remaining in the main tanks. Reserve fuel was carried but not needed.
Idlewild is the 15th power yacht to complete a circumnavigation since Speejacks went around in 1921-22.
For the voyage he had dreamt about for years, Ben Gray, 67, a retired bison rancher, had his two sons, Brad, 38, and Kevin, 35, for crew. Other family members and friends joined the crew on occasion.
The four grandchildren, aged 6 to 10 years, were aboard from the first portion through the river systems of Alberta and the Northwest Territories to the Arctic Ocean at Tuktoyaktuk. They rejoined Idlewild for the last 10 days down British Columbia's Inside Passage to Steveston.
"I've always wanted to travel," Ben Gray explained in an interview with Trawlers & Trawlering. "To this day the sailing is not a big part of the trip, but where you can go and what you can see by going on your own boat—arriving in a a foreign land into the harbour rather than the airport—that's what's important to me."
And travel he did, from northern Alberta through the Northwest Territories to the Arctic Ocean, across the treacherous Northwest Passage to the Atlantic. Then south to the Azores, the Canaries, St. Helena and South Africa. The long passage to Australia was followed by calls on islands in the Pacific prior to making Tokyo.
Before heading for the Aleutians and Alaska and then south into British Columbia, Idlewild visited a Russian port—where the crew was promptly arrested and fined.
Idlewild headed north into the Bering Sea to tie the knot in her circumnavigation by crossing her outbound track near the Diomedes Islands, completing the voyage around the world in less than a year, a remarkable achievement considering it included the ice-choked Northwest Passage.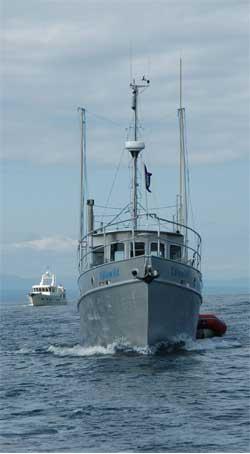 The infamous body of water across the top of North America proved more difficult than expected. At one point, in Larsen Sound between Gjoa Haven and Bellot Strait, they were trapped in ice for four days.
"We were prepared to abandon ship," Gray recalls matter-of-factly. "We had our bags ready."
But then Mother Nature relented and the ice released Idlewild—but not before keeping her marooned on an ice floe for the better part of a day.
"It was an incredible experience," Gray says. "We were incredibly fortunate that we had all those problems because it really added to the experience. It was fun time."

While Idlewild was under way for 14 months 2 weeks, the actual circumnavigation took only 329 days, and featured an anxious nine days between Greenland and the Azores.
A series of low-pressure systems rushing over them built seas to a reported 34 feet with winds at 60 knots and more. Before the crew launched a drogue, Idlewild hit 24.6 knots surfing down a huge wave.
"We were anxious, that's for sure, but never really frightened," Gray says. "We had anticipated heavy weather and we had a plan."
Although they carried a Para-Tech sea anchor, they never felt it was the appropriate tactic. They did set the Seabrake drogue behind Idlewild and liked how it slowed the boat and improved control.
"We figured we could run in 80 knots (of wind) and it wouldn't be all that bad," Gray says, ever so matter-of-factly.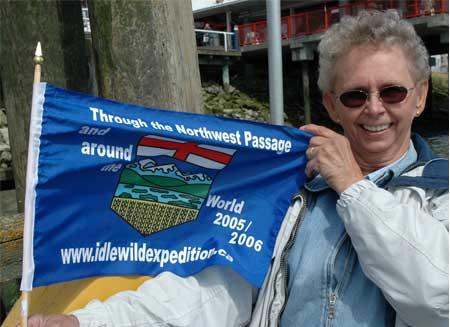 Alice Gray, Ben Gray's wife, shows the burgee that Idlewild's crew handed out as a memento of its passing in ports around the world.
Now that the great adventure has been concluded, Gray says he's planning to spend a lot more time with his wife, Alice, and his four grandchildren. He will put the boat up for sale, but not too quickly, as there might be a family cruise on the Inside Passage in the works.
Ben Gray's advice to others dreaming of a circumnavigation?
"It's not impossible. Plan good, research good. Go prepared and you won't be disappointed. It takes the fun out of a trip like this if you're not fully prepared."
Que Linda!, a custom Seaton owned by Hal Wyman of Seattle, Senor Moment, a Camano 31 owned by Carter Miller of Semiahmoo, Washington and the first Motorcat 29 to arrive in North America, serving as photo boat for Power Cruising and Trawlers & Trawlering, escorted Idlewild, down the Strait of Georgia to Steveston Harbour just south of Vancouver to complete the voyage. Willy Lloyd, a Trawlers & Trawlering Listee, with support from West Marine, organized a welcome party for Idlewild and her crew, family, friends and those who followed the great adventure on Passagemaking Under Power List.