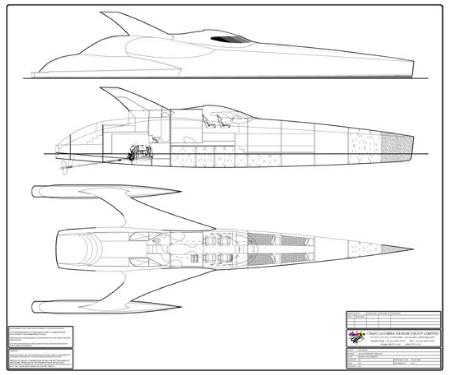 The innovative trimaran Earthrace was designed by Craig Loomes of New Zealand.
Biodiesel Earthrace: San Diego or bust
Cochin, India (9 May 2007) -- Earthrace, a 78-foot-long New Zealand trimaran, is back on track in its attempt to break the world powerboat record for circumnavigation of the globe--using only renewable fuels. In 1998, the 115-foot British trimaran, Cable & Wireless, set the record having made the 24,500-nautical-mile voyage in 75 days.
Earthrace began its world record attempt on March 10, 2007, from Barbados, and headed west, but it had a tough start to the race.
On its first leg from Barbados to Panama, its new state-of-the-art carbon fiber propellers partially disintegrated causing Earthrace to loose two days while replacing them. Then, on route from Panama to Acapulco, Earthrace was involved in a night-time collision with a fishing skiff off the coast of Guatemala and was detained for 10 days by the Guatemalan authorities while they investigated the fatal accident. Earthrace was cleared of any wrong doing. Then, after a good run from Guatemala to San Diego, Earthrace was forced to remain in San Diego for six days as mechanical problems came to light, most likely as a result of the collision.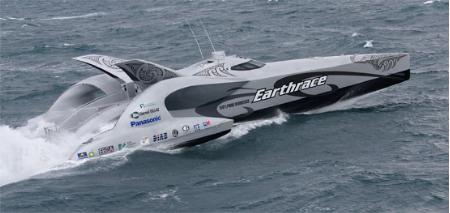 Earthrace is powered by two 540-horsepower Cummins Mercruisers and burns only biodiesel in its quest to circumnavigate the world in under 75 days. (Photo by John King)
After a great run across the Pacific, Earthrace developed problems in its starboard engine just east of Palau causing the port stop to take eight days for repair. This was primarily due to the remoteness of Palau and the difficulty of getting parts and technicians. The latest delay effectively ended any chance Earthrace had of finishing the record attempt in Barbados inside 75 days.
Earthrace has therefore decided to attempt to beat the record by finishing the record attempt in San Diego, which will negate the delays it had in Panama, Guatemala and San Diego, a total of 18 days. Earthrace is able to do this because it took an official start time when leaving San Diego in case it was needed, which it is now. Earthrace left San Diego on April 7. If it is to beat the record of 75 days, it must finish in San Diego by June 21. Skipper of Earthrace, Pete Bethune, said "This is quite achievable if the boat has a good run from here."
As this report was written, Earthrace was traveling from Singapore to Cochin, India, and was making good time, despite some rough sea conditions.
Bethune also said "However, if there are any further significant delays in the next few legs then we will finish in Barbados and know we gave it our best shot."
Bethune further said "It will be a huge challenge to even make San Diego as it means we have to source additional fuel and money when right now we don't have enough money to get past Oman. But whenever we have hit a brick wall as regards funding or fuel or progress in general, someone or something has come along to take us just that little bit further. We hope this pattern continues for just a little bit longer."